Quordle Today
Are you seeking a challenging English word game? Look no further than Quordle! The game is inspired by Wordle, but it is four times harder than the original. Will you be confident enough to put your vocabulary prowess to the test?
Quordle was released in early 2022. The game was designed by Freddie Meyer and was later acquired by Merriam-Webster. It features similar gameplay and rules to Wordle. In detail, you will be challenged to solve four hidden words at the same time within nine attempts. Each word you enter will simultaneously appear in all four grids. If one of the four grids is successfully solved, the words you enter later will then only appear in the remaining grids. The game also provides hints to the player in the form of colored tiles. This game fulfills those who feel Wordle's puzzles are not enough for their abilities.
How to Play Quordle Today
The rules of Quordle are quite simple; the only problem is how you win the game. Your goal is to find all four hidden words in up to nine tries. Below is a basic guide that you should not ignore, no matter what.
1. Start Quordle Today with four grids displayed on the screen.
2. Enter any word; that word will be entered in all four grids.
The tiles will change color immediately to let you know how close you are to the secret word.
Of course, the colors of the tiles in each grid are different because you're looking at 4 different words.
3. Make your next guess based on the hints provided.
If a tile is

green

, the letter is correct and in the correct position. You should look for words that have this letter in the same position.
If a tile is

yellow

, the letter is correct but needs to be repositioned. You should look for words that contain this letter but in a different position in the word.
If a tile is

gray

, that letter is not in the hidden word. You should look for words that do not contain this letter.
4. Repeat the above steps until you find the hidden word with all the letters in green.
Once a grid has been solved, words entered later will not appear on that grid.
5. Share your results to challenge other players.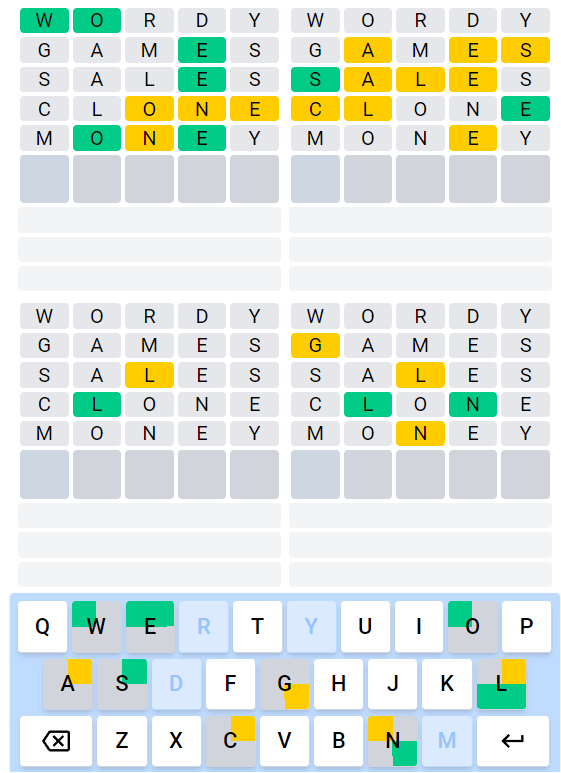 Game Features
Vast vocabulary: Quordle incorporates an extensive database of words, ensuring there is always a challenge awaiting you.
Result sharing: You can share your results on social media to challenge other players. This is an interesting feature of Quordle.
Multiplatform availability: You can play Quordle on many different platforms, from mobile to PC.
Tips and Tricks to Play Quordle
To excel at Quordle, consider the tips shared below:
Starting with words that have a lot of vowels is smart. This is drawn from Wordle players. Once you find the vowels of the hidden word, it will be easier to guess the consonants.
The first words should be formed by different letters. This increases your chances of finding the blue and yellow letters.
Prioritize common letters that appear in most English words. Words containing E, T, A, O, I, N, and S are recommended. According to the experience of most players, the following words can be considered ideal to start: CRANE, AUDIO, REACT, ADIEU, TEARS, ARISE...
Practice makes perfect. This is true of everything. If you practice a lot, not only will your vocabulary increase, but it will also help you form your own strategy.
It is better to start all daily games with the same word. There is a word that is considered optimal for you to find the answer. Based on the points above, find a word that is ideal to start Quordle.
FAQs
Do you have questions about Quordle? Here's what players are asking.
Is Quordle Today available for free?
Quordle is available for free on our website. You can access it every day and solve the daily puzzle of Quordle Today.
When is the next Quordle puzzle released?
Every day, there is only one Quordle puzzle for all players around the world. The new puzzle will be released the next day.
How can I compete with friends?
Quordle is not a multiplayer game. However, it is not difficult to have a way to compete with others. Let's get started at the same time and see who can find all four hidden words in the shortest time. Good luck!
Category and Tags
Unlimited
Best Wordle Clones
quordle sequence
quordle daily sequence